Rip's Tips - General Comments Page

Other tip pages: general comments | rigging | settling in | fixing stuff | gadgets | discussion
Here's a start with a page of general comments about what I was looking for in a bass boat, why I bought what I did, and my shopping/new-owner impressions of Triton...
Boat:
I selected the '99 Triton TR21 pro-deck model for size, comfort, design and safety in tournament conditions. Triton offered "fishability" conveniences that fit my preferences.

I selected a dual console for resale value and courtesy to my partners. Single console high speed bass boats are designed for anglers who plan to always fish alone or deliberately punish any passenger in their boat. The old grouse that a second console takes up precious storage space was eliminated by Triton's dual console design in their larger boats. Some of my tournament friends, who always want to be the boater not the non-boater, still endorse single consoles. Well, duh.

I looked at boats for a year, concluding Triton offers me the best big-model bass boat features for my hard-earned dollar. I wasn't trying to economize or buy another small boat. Listen, I'm not sponsored. I'm a working guy, week-end fishing, bass club member, small-time tournament angler like many of you. It took me most of my half-century life to step up from smaller boats to this dream that rides comfortable at the speeds I drive on big open wind-blown lakes like Toledo Bend and Rayburn.

Trailer:
I immediately noticed that the Triton tandem-axle trailer by MFI is much easier to maneuver than my previous TI tandem.

I highly recommend Triton's highway package option with the retractable transom tie-downs. What a convenience when you're tired coming off the lake.

By the way, I find those bright "logo lights" (backlighting Triton in front of the tires) also provide ground-effect lighting. This wide downward illumination really helps when backing down a dark ramp because I can visualize the outline of the tires, the sides of the ramp, and the water line.

My friends endorse Triton's stainless fender option to deter rust. Oh my gosh, I don't have to adjust brake drums anymore, these are disc brakes!

All right, I can't be all positive or you'll know I'm holding back. I believe one detail on Triton's trailer could be improved to meet the quality of what's sitting on it. These Texas roads are hard on a trailer's external paint job. The things you can't see in the Triton boat above the trailer are top-notch. But, when I replaced a light and peeked inside my closed channel trailer frame, I noticed an orange tint of rust. I felt this frame should have been dipped or coated in rust-inhibiting primer and that they should be using stainless bolts/nuts. This is a water-access trailer under a boat with a lifetime hull warranty. Think about it.

Color:
I chose a white top-cap and light grey carpet and seats for long-term looks and the cool feeling in this hot Texas sun. My deck remains cool to the touch even at mid-day.

I selected a matching blue Aurora deluxe cover, excellent fit and quality protection for your boat investment with soft padding at wear points.

I'm often asked the colors of blue metalflake on my boat, so here's the color combinations...
deck, side, hull - white
deck hull insert - cobalt blue (darker of the two blues there)
side 2, deck hull stripe - slate blue (lighter of the two blues there)
pin stripes insert & deck - cherry apple red
carpet - gray
seats - gray with blue insert

I like my colors and the overall finish, I can't be anything but positive here.

Built-ins:
You'll like, I mean really like... Triton TR-21's built-in rod and tackle storage systems, hydraulic steering, spacious dash layout, rotary switches for electronic everythings, resettable fuses, neatly arranged wiring harnesses, lights and carpet everywhere, struts to support lids, clean lines in a generous battery compartment with convenient access to bilge, insulated ice chest and live wells, plus the boat's overall fit and finish above or below deck compared to other boat brands. Options on others are standard here. It just spoils you, and you feel inconvenienced to fish out of another boat.

OK, OK, stop sugar-coating everything, right? I think the battery compartment access should permit view of all the battery cells and it's a little tight on the edge (this is improved in 2001 models). And yes, I think an ice chest (especially in Texas heat) should be just a little bigger and drain to the outside and not the bilge.

Trolling Motor:
I opted for the Motor Guide Tour Edition trolling motor with its pull-pull steering cable pulleys (so far, so good). My previous MotorGuide with DuraAmp operated trouble-free for ten years. Let's see if they still make 'em like they used to.
Jack Plate:
I chose CMC's hydraulic jack plate to fit my driving style, and I had previous experience with their products. My '99 plate looks the same as the ones I had ten and five years ago. They seem to change hydraulic designs every once in while. This one has the fluid reserve on the pump all tucked inside the plate itself. No pump on the side to get banged by a stump like the previous model. No bulky pump in the bilge like other brands. After '99, the plate is thicker for the up-to-300-hp motors.
Motor:
I stuck with Mercury this time too and selected a 225 EFI for proven reliability plus there's local service in my community.

I don't feel I need to explain my "black" choice over OMC or Yamaha. I've owned all three and simply prefer Merc for price/performance right now. When you consider the cost of extended warranty, Yamaha is very competitive.

Yep, when I went to get extended warranty I learned Mercury recently hiked up their Qguard price. And, you gotta wonder about significant increases in the cost to you and me of many of the routine service components like plugs, pumps and filters or critical accessories like their gauges.

Ol' Merc better pay attention. There's good competition between Merc and Yamaha on technology and reliability every few years. With a lifetime hull warranty, you gotta figure some of us recent Triton owners are gonna re-power and decide which brand based on costs of warranty and consumables.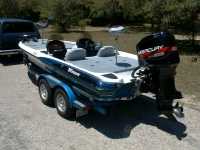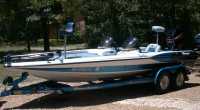 Above - Here's a couple pictures of what that bad lady looks like
just before putting her cover on, chaining her down and motor-totin' her big black tail
for a club tournament trip over to Toledo Bend
(click on any picture for larger image)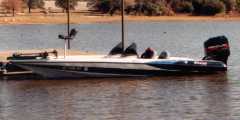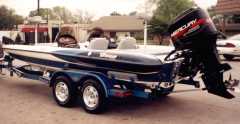 Here she is waiting at dock side to come in after a local December tournament (left)
and on the road home after her first east Texas tournament (right).

Return to Rip's Triton Tips main page.
Also consider exploring BBC Home Page for Bryan Bass Club information and links to other bass fishing/boating sites.
---
Ray's Triton Page | Buying Adventure | Area Dealers | Rip's Triton Tips | Other Links | BBC | Ripstips Home
For corrections on this page series, please contact Ray Rippstein at r-rippstein@tamu.edu
Thanks for visiting.
This intro page last updated July 3, 2006