Tip: Surface Water Temperature Sensor - My dealer's service tech, Mike VanNatta, mounted my Lowrance depth finder's surface water temperature sensor on the motor mount not into the transom.

There were a couple larger holes near the bottom of the mount in front of the series of trim holes (see pictures right). He simply tied it there on the outside edge where the motor and jack plate would not hit it. He routed the wire similarly. He used plastic wire ties as the fasteners.

It's well below the water line at idle. This saves drilling holes in your transom. And, you can route the wire so its protected. Just insure that the motor or the jack plate will not slice it as the motor is trimmed or raised.
---
Update - Several readers asked about my CMC hydraulic jack plate (a link to them is on my other links page). These are about the best pictures of it that I took so far. Notice the pump and piston is now together inside the plate, not on the side like old models.

On mine, Mike mounted the top of the boat-side base plate for the CMC about even with the top of the transom. In these pictures, the jack plate itself is raised all the way up. That's not where I normally run on the water but where I position to launch or clear stumps.

I have the height gauge option for this jack plate, and the switch is one of those turn-signal style at the steering wheel. I like it.

Now that I have Merc's water intake scoops on my '99 motor, I can jack my motor to optimum running heights. So, I marked the plate on a viewable edge at 4.50, 4.75, 5.00, 5.25, 5.50, 5.75, 6.00, etc., inch increments measured from top of transom to inside hook on motor mount (measured like the set-up guys always talk about). I'll stick a vinyl tape ruler there when I pick one up. This helps me mentally sync my gauge's plain hash marks with actual heights.

Mine's a '99 model, the year 2000 jack plate is shaped a little different, beefed up to handle 300 hp motors for you go-fast boys and girls.

back to tip list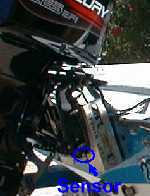 above - sensor location under motor mount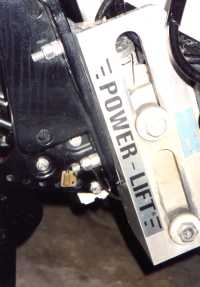 above - closer look at jack plate and temp sensor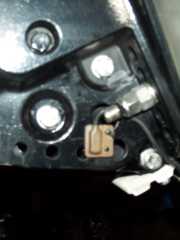 above - close-up of sensor
(remember, click on any picture for larger view)