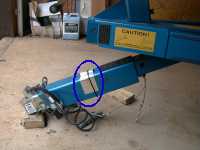 above - strapped down cap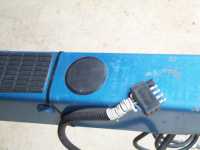 above - plastic cap over hole and brake cap stored, Wesbar 5-plug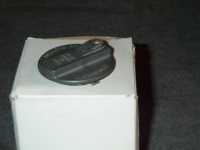 above - brake release cap removed, ready to store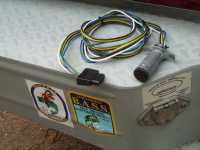 above - make your own wire-plug adapter
Tip: Retractable Tongue, Brake Lockout - I really like the convenient retractable tongue on the MFI tandem axel trailer. It lets me get around my Triton in the garage.

Help!!! Any ideas about how to attach a bow-eye safety chain to the MFI trailer? My '99 does not have one to back up the winch strap.

Notice I have a plastic tie on the brake lock-out cap/dial. This little metal dial on the UFP brake actuator kept getting loose and coming off. Mike Witt's service tech, Mike VanNatta, recommended this temporary solution. If you have a similar situation or learned a better quality solution, please email me.
---
Update... UFP makes a plastic cap for actuators without the metal brake release dial. Simply use the plastic cap for everyday use and store the metal release dial safely in the glovebox for when the dealer or you might be moving trailer with wires not connected.
That new wire plug connector (five) on my disc-braked tandem axle trailer is not like my old plug (four). The extra wire hooks up to the vehicle backup light to activate the brake release solenoid on the trailer. I couldn't find a similar plug to wire my other truck at local auto parts or trailer supply stores.
I wanted to give local marine dealers some business, so I contacted Wesbar for the part numbers to place an order. On the vehicle side (female), mine's a Wesbar "5-flat trunk connector" part #7273. On the trailer side (male), mine's a Wesbar "5-flat trailer connector - wishbone" part #7283. (Thanks to Mike Walter, sales manager at Wesbar, for this info). Link to Wesbar on link list page.
It seems to be designed so it can connect to most other four connector plugs but the extra connector left open needs a feed from a back-up light circuit. You can patch-rig it to use a friend's tow vehicle. If you or your friend have a round 7-prong plug on the truck for trailer light connections, you can order a Wesbar #7257 round-7 to 5-flat prong adapter for about $24 or custom-make one like I did before the adapter was available (see picture).

back to tip list