Tip: Spring return for old Gator Mount - Every time I bumped into a stump in muddy water with my trolling motor, my Motor Guide's Gator Mount would do what it's supposed to do... give a little at the pivot point. But, then I'd have to loosen the tension knobs, pull the motor back, and tighten the tension knobs.

After a morning of bumping into my hundredth stump over on Toledo Bend, I'm ready to buy the new Gator Mount with springs in it or (gulp, flinch, twitch) buy a giant Minn Kota terrain model.

Spring Break to the rescue. We read about this $20 add-on accessory in Honey Hole magazine. My friend, Gerald, and I looked for them at Academy (it's from the same guy that makes that great ProKonTroll pivoting steering stick for the hand steer trolling motors) but they didn't have them.

Gerald called and ordered it for us. If you can't find it local, try Outdoor Texas online at http://www.outdoortexas.com/spg.htm or Trolling Motors Unlimited at 504-277-9595 or the manufacturer, PIC, at 888-868-0238. It took about five minutes to install by removing the old tension knobs and bolts, inserting the pin, capping each side, then stretching the two springs over that pin and the pivot pin on the motor mount using the tool provided.

I used a small hammer and wood blocks to tap caps onto the pin after inserting it. A friend held one block against the pin as a back-stop. I also used a vise-grip to hold the flimsy "tool" while pulling the spring from one pin to another. My friend pushed down with back of a screwdriver to snap the spring down when I got the end over the pivot pin.
---
Update: I had my usual stump bump morning at Toledo Bend. The Gator Mount gave and pulled back into place over and over. See me grinning from ear-to-ear.
When you have the motor on higher power and steer backwards, it will fold under but not using lower power. It did that for me with the old tension knobs anyway. The springs are not huge like the new Gator Mount II. Small price to pay for the convenience, and it pulls back when you power down or steer in forward directions again. I also have a TransducerSaver so I don't worry about my transducer under the motor while bumping through these east Texas stump fields.
After a month, I experimented with a third and forth spring from a pair I picked up at Tractor Supply Company (Century C-259 package). Kinda beefs it up like the new Spring Break that PIC will offer for the larger Motor Guides. Note - I had to grind a bit of the hook off on the spring ends so they would hook over the pins like the originals.

back to tip list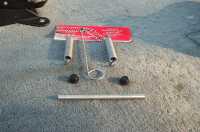 Above - Spring Break parts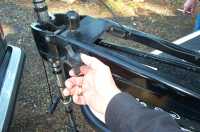 Above - taking off old tension knobs and inside bolts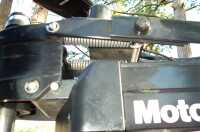 Above - springs mounted over pins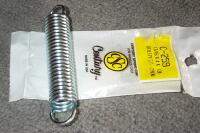 Above - Extra springs from Tractor Supply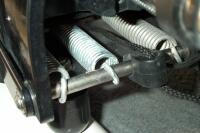 Above - extra spring mounted
remember - click any image for larger view